Hand Siphon Pump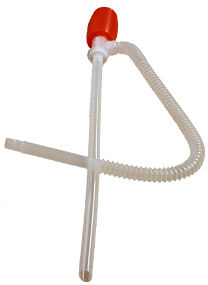 This hand siphon pump safely transfers kerosene fuel via the siphon hose and can be used as a general fluid transfer pump for all your household jobs. The hand siphon pump uses a large ball type siphon to effectively remove and replace kerosene fuel like a turkey baster. This is an affordable and versatile siphon pump that will keep you pumping to your heart's content!
The Hand Siphon Pump features:
Large ball type siphon
Quick Siphon
Length of siphon tube 15"
Length of fuel filler tube 21"