Kero World KW11 Radiant Kerosene Heater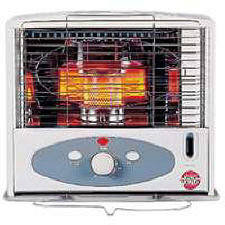 Please note: We cannot ship this kerosene heater to Alaska, Hawaii, Puerto Rico, or Canada.
Truly a new look in radiant kerosene heating. The new modern styling of this model is sure to please. Rounded corners, attractive sculpted front panel design and wider heating area in front combine to bring you both beauty and performance. The KW-11 features the same sturdy steel construction of the KW-24 and the added convenience of a lift-out fuel tank for easy refueling. Hands-off ignition system, smooth ignition of the wick without lifting the burner. All levers are set flush with the cabinet surface. Siphon pump included. U.L. Listed.
Heater Type: Radiant
Heat Output: 10,000 BTU/hr.
Recommended Heating Area: 420 sq. ft.
Burning Time: 12-16 hrs.
Color of Finish: 2 Tone Gray
Dimensions (WxDxH): 22"x 12"x 19"
Fuel Tank Capacity: 1.0 gallons
Fuel Tank Type: Lift out
Warranty: Manufacturer's 2-year limited